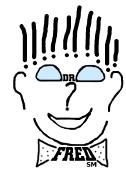 WHAT'S NEW?
There's always lots new at Dr. Fred's Place. For instance:
Dr. Fred's latest book, Meltdown: The Nuclear Disaster in Japan and Our Energy Future
(Twenty-First Century Books, 2012)
has been named
A Junior Library Guild Selection

---
---
GREAT new pictures!!!
See the cover of the Chinese translation of Beyond Jupiter: The Story of Planetary Astronomer Heidi Hammel
See how Dr. Fred's new bowtie puts him "in his element"
See Dr. Fred's on his trip to Mars
---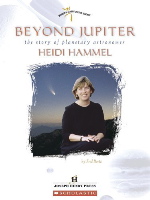 Dr. Fred's biography of planetary astronomer Heidi Hammel, Beyond Jupiter came out in hardcover in 2005 and paperback in 2006, and in Chinese in 2009! He has several web pages about it. You can share Dr. Fred's trip to The Big Island of Hawai'i, where he visited Hawai'i Volcanoes National Park and spent three days observing with Heidi at the peak of Hawai'i's highest mountain. Or you can discover Heidi's Frequently Asked Questions about Astronomy.
The Heidi Hammel updates page added some breaking news in July 2009. Heidi was back in the astronomy spotlight as the leader of a team observing a comet or asteroid impact on Jupiter through the Hubble Space telescopes and two major earth-based telescopes in Hawai'i. It was an encore performance of the event that made her well known, the Hubble Space Telescope's imaging of a 1994 event known as "The Great Comet Crash," when Comet Shoemaker-Levy 9 broke up and smashed piece by piece into Jupiter. It was the first time astronomers ever saw an impact event like that. Now they have seen another!
Dr. Fred is working on three new books middle-grade books for 2010 and 2011. Keep watching "Dr. Fred's Place" for news about those books.

His most recent book for middle-grade readers was
Astrobiology in Lerner Publishing's middle-grade "Cool Science" series. It is now available in paperback as well as hardcover.

For high school/college age readers and adults, Dr. Fred has written
Physics: Decade by Decade. It presents the story of how a science was transformed by events and discoveries in the last century, while its discoveries influenced history and transformed technology.
Younger readers interested in physics can get to the "heart of the matter" -- or perhaps just "the heart of matter" in Dr. Fred's Library of Subatomic Particles. Each book goes deep inside the atom to tell the story of a different particle The Proton, The Neutron, The Electron, The Photon, The Neutrino, and The Quark.
No longer new, but still worth mentioning are Collision Course! Cosmic Impacts and Life on Earth and Techno-Matter: The Materials Behind the Marvels. The books gathered plenty of praise, especially from librarians who know good books. Collision Course! got a boxed review in the American Library Association's Booklist, and Techno-Matter was selected for the New York Public Library's annual list of the best Books for the Teen Age, 2002.
Techno-Matter's good news continued in 2003 when it was named to Los Angeles' 100 Best Books: 2001 by the LA Unified School District and the Special Interest Group on Children's Literature and Reading of the International Reading Association.
Dr. Fred loves visiting schools. He has two presentations based on his recent and upcoming books. Discover The Truth About Space Aliens or take a ten-thousand-year look into the future with "Our Next Planet: Why, When, and How People Will Settle Other Worlds."
You can download a "Day With Dr. Fred" brochure to share with others in your school or town. You can also download a sheet of Dr. Fred" bookmarks with the grinning "Dr. Fred" logo and the covers of Beyond Jupiter and Astrobiology.
Dr. Fred's Place has been honored for Science Excellence by "Dr. Matrix."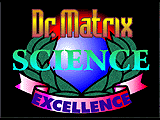 When recognizing Dr. Fred's Place, Dr. Matrix wrote:
Sites receiving this award are distinguished by the quality of their content alone. A flashy Web site will not receive this award if its content lacks interest and integrity. A simple Web site will receive this award if it serves the interests of discovery, mental enrichment and thoughtful enjoyment. This award doesn't go to "cool" sites. It goes to the great sites. It's not a daily or weekly award, but an award based on presence, here and now. It is given in gratitude, with no other request but that you keep doing what you're doing.
Thank you, Dr. Matrix!
When a group of astronomers declared that Pluto is no longer a planet, Dr. Fred updated his "Ask Dr. Fred" question "How many planets are in the Solar System, and is Pluto one of them?" You can also read Dr. Fred's answers to seven very different topics: how Earth would be different without the Moon, life on Mars, dinosaur doom, the colors of the sky and flowers, good and bad ozone, why stars twinkle, and a scientist's view of creation.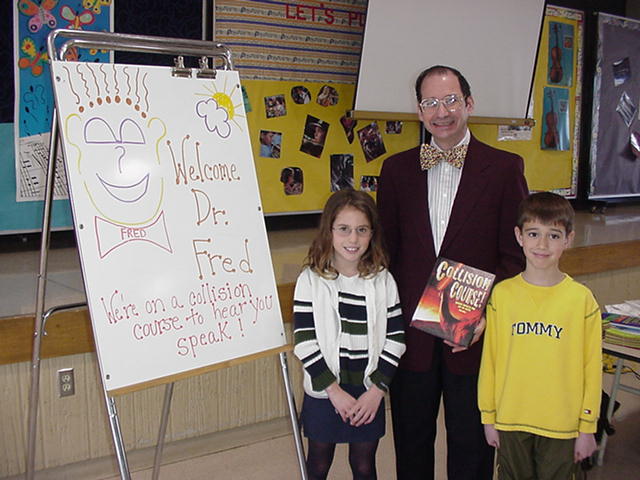 "Dr. Fred" at Nye Elementary School, Hummelstown, PA, March 23, 2001
Just for fun, you can see pictures of Dr. Fred's grandchildren wearing souvenirs he brought from his Hawaiian trip in 2003. The twins were born right after Thanksgiving in 1998, and the newest addition arrived in September, 2003. A perennial favorite is a composite picture of Dr. Fred "just hangin' around" on the cover of one of his books.
Dr. Fred loves to read about science as well as writing about it, so he has become a book reviewer and columnist for the Dallas Morning News and other newspapers. He even has a science book review web site called The Science Shelf.
You're always welcome at Dr. Fred's Place, and so are your comments. We love hearing from you, so click here to send e-mail.
Tell us what you like, what you don't like, and any problems you had in using or navigating through Dr. Fred's Place.
Many thanks!
---
This site is on the list of Approved Science Education Sites by the American Association for the Advancement of Science at its Science NetLinks site.
Click here to read the review.
---
Text copyright 2001-2011 by Alfred B. Bortz, all rights reserved
---

[Dr. Fred's Office |What's New? | Meet Dr. Fred! | Books By Dr. Fred | Ask Dr. Fred |
School Visits | Dr. Fred's Certified Children's Books | Science Project Discussion Area | Links To Fellow Writers ]
---
Dr. Fred logo and art may not be reproduced in any form for commercial or educational use without the written permission of its owner, Alfred B. Bortz.