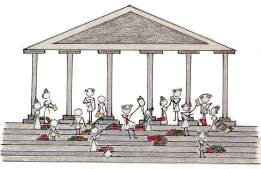 CHILDREN'S SCIENCE DISCUSSION AREA
The children's science discussion area of "Dr. Fred's Place" has moved to Facebook. However, you still may be interested in other areas of this web site or in "The Science Shelf" book review archive. Use the links below to reach the home pages of those two sites.


---














Click here or on the Dr. Fred logo on the left to explore "Dr. Fred's Place" for children's science.

Click here or on the science bookshelf logo on the right for the "Science Shelf," an archive of Fred Bortz's book reviews and columns on science books for adults.

---
If you would like to support part of the cost of maintaining those websites, please buy your Amazon.com books by using the Browse Box below.

[Dr. Fred's Office |What's New? | Meet Dr. Fred! | Books By Dr. Fred | Ask Dr. Fred |
School Visits | Dr. Fred's Certified Children's Books | Children's Science Book Discussion Area | Links To Fellow Writers ]
---
Dr. Fred logo and art may not be reproduced in any form for commercial or educational use without the written permission of its owner, Alfred B. Bortz.