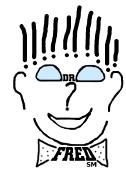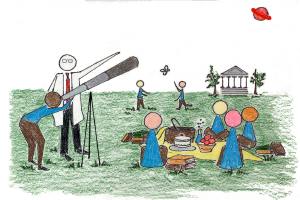 DR. FRED PRESENTS
Past and Future Presentations by Dr. Fred


Dr. Fred has been making occasional personal appearances since 1996, including the following:

[School Visits] [Conferences and Public Events] [Future Travel, Arrangements, and References]

SCHOOL VISITS

Wendover Middle School, Greensburg, PA
Kettering High School, Kettering, OH
Odyssey School (for dyslexic students), Baltimore, MD
Agnon School, Beachwood, OH
Roy Cloud School and North Star Academy, Redwood City, CA
Wegienka Elementary School, Brownstown, MI
Fremont Middle School, Fremont, MI
LBJ Elementary School, Odessa, TX
Woodfern Elementary School, Neshanic NJ
Evans City Middle School, Evans City PA
Jefferson Elementary School, Winston-Salem, NC
Nye Elementary School, Hummelstown, PA
Saint Vincent's Episcopal School, Bedford, TX
Penn Elementary School, Saxonburg, PA
Allegheny-Clarion Valley School, Foxburg, PA
Erwin Valley and Lindley-Presho Elementary Schools, Painted Post, NY
Evergreen School, Monroeville, PA
East Ward Elementary School, Downingtown, PA
Ritter Elementary School, Allentown, PA
Mitchell Elementary School, Woodbury, CT
Ridgewood Avenue School, Glen Ridge, NJ
Newton Ransom School, Clarks Summit, PA (author-in-residence)
Julia Ward Howe Elementary School, Mount Lebanon, PA (science fair speaker)
Heritage Elementary School, Murrysville, PA (Science Olympiad speaker)
Holy Trinity School (K-8), McKees Rocks, PA
Hambden Elementary School, Chardon, OH
Gross Schechter Day School, Cleveland/Pepper Pike, OH
Elm Park School, Worcester, MA
Westmont Hilltop Elementary School, Johnstown, PA
Jefferson Elementary School, West Jefferson Hills School District, Clairton, PA
Numerous library presentations



INVITED PRESENTATIONS

2000 Newaygo County (MI) Young Authors Celebration
2000 Salt Lake City Children's Book Festival
2001 University of Pittsburgh at Greensburg Children's Literature Conference
2001 California State University at Long Beach Children's Literature Conference
2001 "Little Gather" presentation for children, Corning Museum of Glass, Corning, NY
2002 Elementary Science Integration Project summer teachers institute, University of Maryland, Baltimore County
2002 American Association of Physics Teachers Summer Conference, Boise, ID, acceptance speech for American Institute of Physics Science Writing Award
2002 Keynote, Snake River Roaring Youth Jam and Idaho National Engineering and Environmental Laboratory Science and Engineering Expo, Idaho Falls, ID
2002 Pioneer Library System Fall Conference, Geneva, NY
2004 "Write in the Middle" conference, Pittsburgh (PA) Public Schools
2005 Keystone State Reading Association, Hershey, PA
2006 Invention Convention keynote speaker, Pittsburgh, PA
2006 University of Pittsburgh at Greensburg Tenth Anniversary Children's Literature Conference
2006 Rochester (NY) Children's Book Festival
2008 University of Pittsburgh at Greensburg Children's Literature Conference
2008 Cafˇ Scientifique Pittsburgh
2008 Keystone State Reading Association, King of Prussia, PA
2008 Rochester (NY) Children's Book Festival
2008 Alfred University, Alfred NY, presentations for physics and education students
2009 Rochester Institute of Technology, presentations for physics department and general student/faculty audience
2011 AIAA Distinguished Lecturer, Worcester Polytechnic Institute
2011 Johnstown (PA) Children's Book Festival Featured Author
2012 Keystone State Reading Association, Seven Springs Mountain Resort, PA


Travel plans

Dr. Fred will gladly consider invitations in Pennsylvania and surrounding states or in places that he would consider interesting. If he can combine speaking at your event with a visit to a National Park, a historical site, or a unique museum, he'll be glad to hear from you!

Dr. Fred is currently seeking speaking engagements in connection with the following events. Travel expenses will be waived.
Click here for details on how to arrange for a personal appearance. That link also includes contact information of people who have hosted Dr. Fred's programs and will gladly provide references.

Return to School Visits page.

Return to Dr. Fred's home page.


---
Text copyright 2002-12 by Alfred B. Bortz, all rights reserved
---



Dr. Fred's Office |What's New? | Meet Dr. Fred! | Books By Dr. Fred | Ask Dr. Fred |
School Visits | Dr. Fred's Certified Children's Books | Science Project Discussion Area | Links To Fellow Writers ]
---
Dr. Fred logo and art may not be reproduced in any form for commercial or educational use without the written permission of its owner, Alfred B. Bortz.