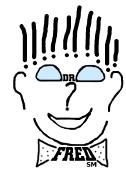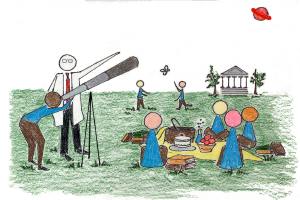 HOW TO ARRANGE
A DAY WITH DR. FRED







To arrange for "A Day With Dr. Fred," contact Fred Bortz directly:
1312 Foxboro Drive, Monroeville, PA 15146
Phone: 412-856-1440
or click here to send Fred e-mail.



A Day With "Dr. Fred"
Fee Schedule 2013-2014



Because of the science content, schools may be able to defray some or all of the cost by contacting local business or industry for sponsorship. E-mail Dr. Fred using above link for assistance.


National, $1500 per day, plus travel expenses
Within one-hour drive of Monroeville, PA, $1000 per day, $600 per half day, $100 per hour (including travel time)
Cleveland/Canton OH area, $1200 per day, $600 for an additional half day, travel expenses waived
Between Cleveland and Harrisburg near Pennsylvania or Ohio turnpike, $1250 per day plus travel expenses
Discounts available for extended visits; will share book sale revenues if host handles the details
Discounts also available if Dr. Fred is already planning to be in your area
Pre-visit e-mail exchange, $50 per e-mail question, minimum 3, maximum 6
---
For a limited time, A Day With Dr. Fred includes a free eight-book set of the MG-YA series Revolutionary Discoveries of Scientific Pioneers, Rosen, 2014.
---
---
The following individuals have hosted "A Day With Dr. Fred" and will be glad to comment on their experiences:
Jamie Porter
Hambden Elementary School
13871 G.A.R. Highway
Chardon, OH 44024
440-286-7503

Jamie wrote the following after the visit:


Thanks again for coming and jump-starting our 'love to read' week.
We're all wearing bow ties today in your honor.



Kathryn Massaro (kmassaroAT-SIGNwiu.k12.pa.us)
[To send e-mail, replace AT-SIGN with @]
Greater Latrobe Senior High School
131 High School Drive
Latrobe, PA 15650
Click to see her thank you note. It includes the following: "Your presentation sparked some interesting and thoughtful debate from the students, which is always great to hear."


Rebecca Kameroski (kameroskirAT-SIGNahsd.org)
Barbara Frutchey (frutcheybAT-SIGNahsd.org)
[To send e-mail, replace AT-SIGN with @]
Newton Ransom Elementary School
1549 Newton Ransom Blvd
Clarks Summit, PA 18411
570-585-8300


Julia Bitting, Library/Media Specialist
Creekside Elementary
431 Forlines Road
Winterville, NC 28590
(252)353-5253


Barbara Parfitt, Media Specialist (bparfittAT-SIGNdasd.org)
[To send e-mail, replace AT-SIGN with @]
East Ward Elementary School
435 Washington Ave
Downingtown PA 19335
610-269-8282


Janice Hill-Hancock
Education Services Coordinator, Pre-College Education Programs
Idaho National Engineering and Environmental Laboratory
P.O. Box 1625
Idaho Falls, ID 83415
(208) 526-0318


---




[Dr. Fred's Office |What's New? | Meet Dr. Fred! | Books By Dr. Fred | Ask Dr. Fred |
School Visits | Dr. Fred's Certified Children's Books | Science Project Discussion Area | Links To Fellow Writers ]
---
Dr. Fred logo and art may not be reproduced in any form for commercial or educational use without the written permission of its owner, Alfred B. Bortz.