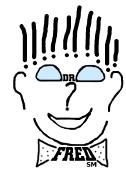 INSTITUTE OF CHILDREN'S LITERATURE CHAT TRANSCRIPT















Institute of Children's Literature Chat Transcript
Thursday, September 18, 2003



"Dr. Fred's Worlds of Writing: Earth, Mars, and Beyond"

with Dr. Fred Bortz
Thursday, September 18, 2003
Mel

is Mel Boring, moderator of this chat with Dr. Fred Bortz, and editor of the ICL web site.

Dr. Fred

is Dr. Fred Bortz, who earned his Ph. D. in Physics from Carnegie Mellon University by the age of 26, then discovered his talent and ability for writing. His own two children drew his writing focus to writing for children. Fred Bortz is one of the nation's leading writers of science and technology for young people. In his books, articles, and personal appearances, he shares with his audience the joy of discovery that fueled his previous 25-year career in teaching and research in physics, engineering, and science education. Dr. Bortz is the author of COLLISION COURSE!, TECHNO-MATTER, CATASTROPHE! and MARTIAN FOSSILS ON EARTH?. To get a good look at Dr. Fred's published books, you can tour his fascinating web site at www.fredbortz.com.

Green

shows the usernames of the people who asked questions of Dr. Fred Bortz.

Interviews are held every other Thursday evening for two hours, beginning at 9 CANADA/ Atlantic Time, 8 Eastern Time, 7 Central Time, 6 Mountain Time, and 5 Pacific Time.


Mel: Welcome to the ICL Chat Room! Dr. Fred Bortz is returning this evening for his third visit in our chat room. Fred Bortz is a children's science writer who brings the worlds of stars and planets alive. He has recently visited Hawaii, where he interviewed Heidi Hammel for the biography he is writing for children about this planetary scientist. Dr. Fred's trip included a visit to Hawaii's Volcanoes National Park, as well as three days at the observatory with Heidi Hammel. Dr. Fred and I both welcome you to the chat room this evening. You can ask this very likeable "children's scientist" about any aspect of writing for children. Dr. Fred, welcome to the chat room!


Dr. Fred: Hello everyone. I've been thinking a lot about the planets recently, including this one--so fire away!

Mel:

Dr. Fred, one of the first things people are wondering about tonight is Hurricane Isabelle, currently pounding the East Coast of the United States. Do you know her? J


Dr. Fred: I'm just meeting Isabelle now. Here in southwestern PA, we're seeing plenty of rain, and the winds are supposed to kick up a bit. I'm still grateful to Hurricane Andrew, however, because his stormy temper turned into the meat of the thesis project of my collaborator on "Dr. Fred's Weather Watch," Dr. Marshall Shepherd of NASA. If you pick up that book, you'll think it's just a project book, but you'll discover it's Marshall's story, too. How he became a scientist.


Mel:

Dr. Fred, were you a "boy genius scientist" as a kid? If not, what kind of boy were you that grew to be such a respected children's science writer?


Dr. Fred: Funny you should ask, I was a precocious kid, especially with math and my parents discovered I could do parlor tricks of sorts, mental arithmetic faster than adults. That made my sister very jealous, since she was 18 by the time I was 5 and I performed for her friends. Anyway, being Jewish and precocious mathematically in the early 1950s, I was going to be the next Einstein, my parents thought. I went straight through to the Ph.D. in Physics by age 26 and only later discovered my talent for writing and my love of it. That was something my sister and I shared, and she saw it when I was a teenager. Naturally, as a teenager, I wouldn't admit that my almost 30-year-old sister was right.


Mel: GREAT brother/sister anecdotes, Fred! J A welcome for you from Vijaya Bodach: I've enjoyed reading your books - FOR THE YOUNG SCIENTIST and TECHNO-MATTER - and your web site. Thank you for this opportunity!

Dr. Fred:

Hello, Vijaya!

Vijaya:

My background is in microbiology/biochemistry/biophysics (in my previous life). I've seen several books relating to these topics for the older children (age 10 and above), but not very many for the younger children. Is it because there is less interest?


Dr. Fred: It's always hard to read the minds of publishers, but I do know that there aren't very many editors who understand science well. They think it's too hard to understand, but I've begun to show them that the problem is that the people who know enough and have the skill to write about things clearly can explain things even to editors! I just finished a series of six books called THE LIBRARY OF SUBATOMIC PARTICLES, 6000-word books on The Proton, The Neutron, The Electron, The Photon, The Neutrino, and Quarks. And I learned a lot about an area of physics I had not studied much and which had advanced tremendously since I was an undergraduate in the mid 1960s.


Mel: Dr. Bortz, is it more difficult to work with SCIENCE editors than with editors per se, because of the scientific knowledge involved?


Dr. Fred: In the children's area, there aren't many who really understand science. But a good nonfiction editor knows enough to guide me to meet my audience. They know enough to put themselves in the readers' seats. I've gotten good at doing that, too!


Mel: OK, Fred, I'll show ignorance enough to ask what a "quark" is?


Dr. Fred: Well, a quark--pronounced "kwork"--is not only subatomic, but fundamental. When I went to school, they talked about protons and neutrons being fundamental--that is indivisible--but it turns out that they are composed of three quarks each. Now you can't shake quarks loose, because they have this odd property of being connected by forces that increase as they separate, but you can detect them through some interesting experiments. The fundamental particles are three "generations" of particles, each of which has two different quarks and two different leptons (electrons and neutrinos in normal matter). The quarks have funny names: up/down strange/charm top/bottom. And they have properties called "color" which isn't anything like the colors we see. Read my book (QUARKS) for more, it'll be out next December or January, 2004.


Mel: Now I understand even MORE how qualified you are to answer such questions from children--thanks!

Dr. Fred:

Thank you, Mel!


mayuri: Do you perceive much of a gender difference between what girls and boys are interested in in terms of science topics?

Dr. Fred: Hello, mayuri. I suppose there are tendencies, but it is unfair to label one area a "boy's topic" and another a "girl's topic." For example, in working on the biography of Heidi Hammel for "Women's Adventures in Science," the working title of the series, I have discovered that Heidi's outreach has had an enormous impact on getting girls into Astronomy. When she was a student 20 years ago, about 10% of astronomy grad students were women. [I suppose they still are women :).] The latest statistics show that more than 50% of the latest astro-grads are female. Heidi doesn't claim to be responsible for that huge change, but it does demonstrate that we need to be careful about assumptions. Now my only problem is this: How do I get boys to read Heidi's story. If you visit my website and follow the links you'll see that Heidi's story appeals to anyone who loves the planets (http://www.fredbortz.com).


Mel: Fred, how did you come to be invited to write for the "Women's Adventures in Science" series?


Dr. Fred: Kristi Holl actually alerted me to the call for authors. It was then I realized that I needed to pay more attention to the SCBWI website than I had been. Anyway, I had some proposals out for some bios, and two of them were women. My proposals didn't make the cut, but my skills (including a book of profiles called TO THE YOUNG SCIENTIST) were clearly on target. That book had as many women scientists as men, even though I deliberately went looking for only one woman (engineering) and I had a good female friend who dealt with controversial topics and ethics in science. I used her as the last chapter, to show the importance of being human and honest as a scientist.


Mel: By the way, the Society of Children's Book Writers and Illustrators site that Dr. Fred mentioned is at: www.scbwi.org--and a very HELPFUL site for us children's writers!

vijaya:

I am currently trying to market a counting book based on bacterial growth. I'm also writing a companion book about the role of bacteria (besides in sickness). I'm targetting it broadly (age 4-10) because the different aged children will read it at different levels. I'd like to propose a series of these books, both technical and biographies. How do I go about it?

Dr. Fred: I'm not sure I'd propose a series, Vijaya, unless you've proven yourself with books or articles first. Also, the 4-10 age range will probably not fly with publishers. The first step has to be to become familiar with what publishers are putting out these days. Find a publisher that looks like "home" to you and submit a good, solid query. If they are a series publisher like Rosen (my Subatomic publisher), Enslow, and others, you might get a letter back saying they like your credentials and have a title they want you to work on (at a very low rate, unfortunately, for a scientist). But that way you can crack the market. Another possibility would be to say that you have seen some books that match the audience and approach that you want to try. Then tell them the subjects you want to cover. Obviously, I'm answering without knowing the details of your work, so I apologize if I've missed the mark here.


Mel: Fred, which is better for us starting children's writers to begin with, magazine or book publishing--and why?


Dr. Fred: Definitely magazines. Editors are reluctant to work with someone without a track record, and anyway, working on a book--even a novel based on the real world-- requires plenty of research. If you're interested enough to dig deeply into a topic, and you love sharing neat things you discover with kids, then you probably have a slew of article ideas. It's a good way to practice selling your work--and yourself--to editors.


lasmithm2000: I like your subject matter Earth, Mars and Beyond!


Dr. Fred: Thanks!


dragonred: How did you begin writing children's books?


Dr. Fred: Don't try this at home. I was unhappy in my work, and I wasn't sure if it was that doing physics-related things was different from studying it. So I tried to think about alternatives. I was between jobs at the time, but when I got a new job, I enrolled in the Intitute of Children's Literature course. Now that was a good thing to do, but I allowed myself to become too sure that I would become a writer. That was 1978. I sold my second assignment to a national newspaper--a faux-Suess story poem, of all things--and I was even more sure that quitting my day job was around the corner. That corner was a convoluted one, to say the least. I enjoyed my scientific work, made enough money to launch my kids, got a few articles and a couple of YA nonfiction books, and finally took a flying leap in 1996. My first book, by the way, was published in 1990, and I had a stillborn book before that.


Mel: It is nicely amazing that you sold your Seuss-type story poem, Fred. Do you remember any of that poem?

Dr. Fred:

Here's the beginning...
THE MYSTERIOUS MESSAGE:

In the Land of Gazorze by the Ploombian Sea

A magical miracle happened to me.

Alone on those shores 'neath a sinnabob tree

I saw a gold box with a diamond-decked key.

Said a sign on the box, "These true words you must heed

though you ask what you want, you will get what you need....

dragonred:

Thank you. That is really quite inspiring.


Mel: You mentioned that your first book was "stillborn," can you tell us the circumstances around that--or are they too sad?


Dr. Fred: I'll be glad to tell you. It's an interesting lesson about the business. It isn't that unusual for a book in process to be cancelled. In this case, it was going to be ANATOMY OF A COMPUTER, but unfortunately the late 1980s saw a glut of books about computers, and most of them were, frankly, awful. Mine was going to be quite good (and I recycled some of it in my second book, which was about artificial intelligence). Anyway, the editor kept asking for small revisions and assuring me that it would be published, even paying a portion of the advance that was not due until "acceptance." But the market turned sour and they ultimately decided not to publish it when the editor moved on. I had to fight for the balance of my advance, but I had a letter from the editor assuring me that I would get it after the last revision that I sent him. I got an apologetic letter with the final check from the president of the company.


lasmithm2000: Don't you think developing your own subject matter hits the mark?


Dr. Fred: That's a good question. Any author prefers to choose his/her own subject and slant, but you need to do it in the context of who will publish it and how they will market it. In my own case, I knew that COLLISION COURSE! COSMIC IMPACTS AND LIFE ON EARTH would be a great title for Millbrook, but they turned it down twice. It went elsewhere, but every time I saw a change in the situation, I sent the proposal back to Millbrook. Finally, there was a front page story about a possible impact in 2028, which turned into a close call when the astronomers found some older pictures and calculated the orbit more precisely. But the interest and the realistic treatment in the newspapers made the topic sell. It was great fun to write. On the other hand, when the market was bad and I wasn't selling any proposals, I ended up approaching Rosen, when they had this series that cried out for a real physicist to write. That kept me very busy until other opportunities came along. The Hammel biography is not far from the biographies I was proposing, and I think I'll be able to write it in the way I would choose. Of course, as part of a series, I'll need to meet certain constraints. But I also got a travel budget and a trip to the Big Island of Hawaii for a great adventure. So I suffered through having to compromise what I proposed :) A great opportunity.


Mel: What brings about a travel budget for a writer to a great place like Hawaii, Dr. Fred?

Dr. Fred: That series is published by a very solid, but not-for-profit publisher associated with the National Academy of Sciences, and they got a seed grant from Sara Lee Schupf -- the Sara Lee. Nobody doesn't like her, as they say, and I count myself among her newest fans!


Mel: Compliments are coming in for your story poem, Dr. Fred! Like this one:


writermom: Good poem!


Dr. Fred: Thanks, writermom, but you haven't seen the rest of it yet. Believe it or not, I've been going back and forth with a revision for a major publisher who might be willing to take a chance. Part of the reason it is still up in the air is I had some varied rhythms and verse lengths--kind of surprises--and the editor thought the verses should all be the same pattern for this audience. I actually like some of my other silly verse better, but let's hope I break the ice with this one. I actually have one under a pseudonym--long story--in an anthology called I INVITED A DRAGON TO DINNER. You can figure out which one I am by looking at my pseudo-biography in the back.


Mel: SUPER-GOOD news, Dr. Fred, CONGRATULATIONS!


Dr. Fred: Well, it's a start, anyway. I'm always glad to accept congrats, however.


Jmarie: When astronaut Tamara Jernigan visited our school, one of the questions asked was, "Do you believe in aliens in space?" Her answer was, "I certainly believe there is a high probability that there's other intelligent life in space." But she also said she was skeptical about some reports. What do you think?


Dr. Fred: Hi, Jmarie. I do a school visit program called "Our Next Planet: Why, When, and How People Will Settle Another World" and I tease the audience about having some space aliens among them. Later on, I reveal that the best guess of when we will send people to Mars is about 25 years from now and the astronauts will likely be in their mid 30s, which means they are about 10 now -- just the age of my listeners. One of them might very well become a human who is living for a year or so on another world--a space alien from Earth. I've also done a lot of reading and proposing of books about how life develops on a planet and the likelihood of life elsewhere. If you go to my website, you will be able to find a page where I discuss the latest on the Life on Mars controversy. I just added something new there. I've also reviewed a number of books on the subject for adults, and you can read those reviews on my archive: http://www.scienceshelf.com Those reviews were published in major metro newspapers or Publishers Weekly.


lasmithm2000: So you believe in the possibility of life on mars?


Dr. Fred: Definitely, but as Carl Sagan would say, "Extraordinary claims require extraordinary evidence." We don't have anything approaching extraordinary evidence, just signs that Mars may have been habitable at some point in its past. I like the controversy more than the answer. In fact, my MARTIAN FOSSILS ON EARTH? has a question mark in its title and for each chapter title. But I think life turns out to be an opportunistic phenomenon. It's like hitting the big jackpot in the lottery. The odds are slim on any one drawing, but if you play long enough, you'll get lucky. Then you have created a circumstance where life can replicate and does. Just as you can earn enough by investing the money so that you and your descendents will never have to work, or at least won't have to rely on chance like the founding lifeform did.


Mel: Dr. Fred, just how did your recent trip to Hawaii come about? The chatsters are asking about that.


Dr. Fred: Well, I got this offer to write the Heidi Hammel biography, and Heidi said it would make sense for me to shadow her while she observes. I agreed, not knowing where or when that would be, but understanding that you can't research without actually getting into the details. Fortunately, the editors at Joseph Henry Press agreed and scared up enough extra travel budget so that I could visit Heidi at her home in Connecticut, where she telecommutes to her work in Colorado while sharing child-raising duties with her husband, an IBM engineering manager, and to take the trip to Hawaii. By the way, although it was a great adventure, it was also very hard work. I flew out on a Saturday, twelve hours from takeoff to final destination, went to Hawaii Volcanoes National Park for Sunday morning, taking advantage of the six-hour body-clock difference. Then I drove 100 miles back to Kona, where I met Heidi. We went up to the 9300-foot level where the dorms are, and spent a couple of hours over dinner and conversation to do some altitude accommodation. Then we went up to the 13,700 foot peak for two more hours of breathing a 60% atmosphere. The next evening, about 5 PM, it was back up the mountain for dusk-to-dawn work for three consecutive nights at 14,000 feet. That takes a toll on the body, not to mention the total disruption of our body clocks. But we had a fantastic time, discovering something new about the moons of Mars, even though we expected to be spending most of our time looking at Uranus and Neptune, planets about which Heidi knows more than just about anyone, at least about their upper atmospheres.


Mel: VERY interesting details, Fred--thanks!


windy: On the big island, did you get to see the goddess Pele at work with her lava?!


Dr. Fred: Hi, windy! Heidi has a great Pele story, and I hope I can use that in the book. Anyway, I didn't get to where the lava is flowing right now, but I did reach a point where it flowed across the road at the end of March and the beginning of April. If you go to my website, you can see some amusing images of some road signs that, shall we say, are no longer needed. I work those into my preview page of the Hammel biography.


lasmithm2000: I have gone to your site--it's cool! And now I will look at it again.


don from denton: Fred, I know that you do a lot of interviewing for your book. Do you have any specific techniques for putting your subject at ease so they will open up to you?


Dr. Fred: Hello, Don from Denton--a student of mine who will publish, I'm sure! I show them that I'm interested in them as people as well as their work. I also make sure that I have looked at their work enough not to ask questions that I ought to have found the answers to. I get e-mail through my website from people sometimes who ask questions that they could have found by following one or two clicks, or looking up the titles of my books. If they do their homework, I go out of my way for them, but otherwise I will politely brush them off. I treat my interviewees with the same courtesy for their time and effort that I expect when people interview me. I can tell we're clicking when I can spring one of my atrocious puns on them, and they actually smile!


Mel: J Can we go back up to Mars now, Dr. Fred?


Dr. Fred: Dr. Fred: Yes, indeed! Mars is a great place, and it's close right now!


karen e: Is Mars too cold to support life (now)?


Dr. Fred: Actually, mars is pretty cozy in some places. Also, if we look at life on Earth, we're finding it in all kinds of extreme environments, which is why I say it seems to be an opportunistic phenomenon. If you read what the experts--not me--are saying, there may be spots under the surface especially. The biggest problem with life on the surface is that there is no ozone to block damaging UV light, and no magnetic field to speak of to trap cosmic rays and such bombardments. It's a really complex subject when you start to look at all the details, but temperature is not a big obstacle to life on Mars. The Martian equator is probably warmer than the polar regions where creatures on Earth manage to eke out a living.


lasmithm2000: They have discovered water is on Mars and that it has rock formations, haven't they?


Dr. Fred: Yes. Mars has quite a bit of water in its polar caps and perhaps in the soil. They are still learning a lot about its specific geology, but it has the largest mountains in the Solar System. I'm working from memory here, and I'd better not sound too authoritative. There are lots of great books out there, including some that I have reviewed at www.scienceshelf.com (Surf on by!)


lasmithm2000: I think Carl Sagan might be the Einstein of our time, do you think-- especially now that he has died--was he a genius?


Dr. Fred: I like Carl Sagan, but not because he was a genius. He believed in sharing science with the general population, giving them credit for understanding it. That attitude cost him the respect of the establishment--or some of the snooty establishment anyway--and he was rejected for membership in the National Academy of Sciences. On my book review archive, I have extensive reviews of two recent Sagan bios, including an unpublished sidebar where I ask the authors about why they felt it was important to mention Sagan's use of marijuana. Again that's at www.scienceshelf.com--I think you'll find those biographies very instructive. I am trying to sell a Sagan biography, and I'm hoping that the Hammel biography will give me enough credibility in the genre.


Mel: I believe you're right on right about Carl Sagan, Dr. Fred!


lasmithm2000: Do you think traveling evokes a good writing sense?


Dr. Fred: Hi, lasmithm2000. For me, traveling widens my experience and enables me to connect with new people and new knowledge. I'm always up for a trip to someplace new. Last year it was idaho, with a sidetrip to Yellowstone and Montana. Next year, who knows. I want to do a biography of Eugene and Carolyn Shoemaker. Gene is dead now, but Carolyn is still alive and active in Flagstaff Arizona, not far from the Grand Canyon. I interviewed them for TO THE YOUNG SCIENTIST, but a mere profile doesn't do their lives justice.


Mel: Here's an interesting (and final) question, Dr. Bortz:


july flower: Is it good to write why we shouldn't control the weather?


Dr. Fred: Hi, july flower. I think you need to write about the facts of controlling the weather and the implications--with plenty of research to back you up because this will get into controvery. I think it is better to let your main point emerge from the presentation, and your question suggests that you might be heading toward what editors call DIDACTIC --the kiss of deah for a book. You need to persuade, not to clobber the readers with opinion. I'm not implying that you will be didactic, but I'm warning you of a pitfall--a deep one!


Mel: Fred, you have been a veritable fountain of knowledge about a topic that few of us know nearly enough about, writing science for children. I am certain that there are those among us tonight who may want to try science writing for children for the first time. I'm also certain that we will all want to hear from you again when you can. Thank you so much for visiting us this evening-and would you be willing to pay us a return visit here someday?


Dr. Fred: I'll be glad to come back. It was fun. To all, I say: Follow your questions!


Mel: By the way, PUBLISHING CONGRATULATIONS-IN-ADVANCE to don from denton, on the strength of your instructor's faith in you! Please come back two weeks from tonight, October 2. Keep checking at http://www.institutechildrenslit.com/rx/iclschat.shtml to see who our special guest will be then. And I want to THANK YOU ALL AGAIN, for your strong support of our chat room, and Writer's Retreat, and the various other activities of our web site. Besides special guests, it takes people like you to make our programs work--THANK you! THANK YOU, too, again, Dr. Fred Bortz, for being here! And goodnight everyone!

windy:

"THANKS, Dr. Fred!"

Dr. Fred:

Thanks, Windy!

To avoid missing a single article, transcript, or important news announcement, sign up for the Institute's free weekly e-mail updates. Simply go to this link, type your e-mail address, press SUBMIT, and you'll be subscribed!

http://www.institutechildrenslit.com/rx/email_updates.shtml

Return to Transcripts

Home | Writing Course | Short Story | Full Story | Aptitude Test
Send Me Info | Enroll | Our Instructors | Our Credentials | Sample Lesson
College Credits | Tax Deductibility | From Overseas | Writer's Bookstore
Newsletter | Writing Contests | Write for Adults | Free Writer's News
Rx for Writers | Chat Room | Open Forum | Writing Tips | Scheduled Events | Transcripts
Writer's Retreat | Writer's Support | Student Center | Privacy Policy | Web Editor | Comments

Copyright (c) The Institute, Inc., 1999, 2000, 2001, 2002, 2003
No part of the electronic transmission to which this notice is appended may be reproduced or redistributed in any form or manner without the express written permission of The Institute, Inc.

[Dr. Fred's Office |What's New? | Meet Dr. Fred! | Books By Dr. Fred | Ask Dr. Fred |
School Visits | Dr. Fred's Certified Children's Books | Science Project Discussion Area | Links To Fellow Writers ]
---
Dr. Fred logo and art may not be reproduced in any form for commercial or educational use without the written permission of its owner, Alfred B. Bortz.