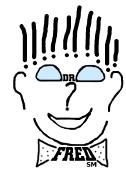 INSTITUTE OF CHILDREN'S LITERATURE CHAT TRANSCRIPTS
Institute of Children's Literature Chat Transcripts With "Dr. Fred"




[Dr. Fred's Office |What's New? | Meet Dr. Fred! | Books By Dr. Fred | Ask Dr. Fred |
School Visits | Dr. Fred's Certified Children's Books | Science Project Discussion Area | Links To Fellow Writers ]
---
Dr. Fred logo and art may not be reproduced in any form for commercial or educational use without the written permission of its owner, Alfred B. Bortz.