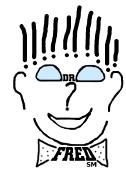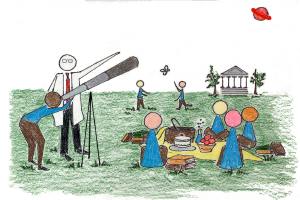 DR. FRED'S SCIENTIST-AUTHOR IN ELECTRONIC RESIDENCE PROGRAM
Give your school year a science focus with the help of Dr. Fred!
Your school or district will enjoy:

The challenge of putting together your own science celebration, including a publication about major events in science and technology
Three in-person two-day school visits with Dr. Fred: early fall, mid-year, late spring
Three in-person planning and enrichment meetings with Dr. Fred for project leadership team (science, English, art, computer teachers, librarians, and principals -- with possible addition of music and drama teachers)
A project web page on Dr. Fred's web site, accessible only to those who know the URL -- no hot-links or other public pointers to it
Weekly private e-mail messages from Dr. Fred about a science story in the news
As-needed exchange of e-mail or telephone calls with Dr. Fred about the project
Monthly update on Dr. Fred's writing projects
Year-end community science celebration and book sale with Dr. Fred as Master of Ceremonies
---
The cost of this program is $15,000 per school or district, payable in equal monthly installments from August 1 to May 1, plus travel expenses.

To discuss this program:
Fred Bortz
1312 Foxboro Drive
Monroeville, PA 15146
Phone: 412-856-1440

e-mail: DrFredB@worldnet.att.net
Website: www.fredbortz.com
---

[Dr. Fred's Office |What's New? | Meet Dr. Fred! | Books By Dr. Fred | Ask Dr. Fred |
School Visits | Dr. Fred's Certified Children's Books | Science Project Discussion Area | Links To Fellow Writers ]
---
Text copyright 2001 by Alfred B. Bortz, all rights reserved. Dr. Fred logo and art may not be reproduced in any form for commercial or educational use without the written permission of its owner, Alfred B. Bortz.
---