A meaningful formula for pursuing science careers
By Sandra Downs
FOR THE TRIBUNE-REVIEW
As the author of five books and numerous articles, Dr. Alfred (Fred) Bortz brings scientific topics alive for young people. Driving him in his work is an intense love of knowledge. "Science is part of my nature," Bortz said. "I always loved quirky facts and the quest for information. Science turned out to be the best field in which to find things out!" Bortz, a Monroeville resident, spent many years working in the field of applied physics. He has written dozens of science articles and several books for young readers: "Superstuff! Materials That Have Changed Our Lives," "Mind Tools: The Science of Artificial Intelligence," and "Catastrophe! Great Engineering Failure and Success."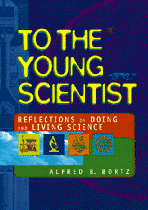 In his new book, "To The Young Scientist: Reflections On Doing And Living Science," the focus is on living a "scientific life." Bortz presents the book as a research project; the reader is asked to take observations and make a conclusion. Each chapter is a careful study of the lives of eminent modern scientists, focusing on their projects, their triumphs, and what made them choose their careers. The book is aimed at high school students but will interest budding scientists of all ages. "My mission was to explain how a science career contributes to a meaningful life," Bortz said. "Work should be an important but not an all-consuming element of a person's life."
After many years of consulting with science publishers, Bortz left his research position with Duquesne University last year to free-lance as a writer, teacher and educational consultant. He described the transition. "In science and engineering, people are required to specialize. They're forced to look in one direction. Over the years, I moved from subfield to subfield. I was always attracted to the unexplored areas, things I didn't have time for because of my job commitments. Now, as a writer, no one tells me I can't look into something. Research is my driving force."
With that force in hand, Bortz continues to explore new terrain. "I'm revisiting areas that intrigued me as a child - right now I'm focusing on planetary science. Researchers are discovering amazing things about the origin and evolution of the planetary bodies in our solar system; can we generalize these findings to the rest of the universe?" His next book, "Martian Fossils On Earth?" will be released this fall by Millbrook Press.
As a parent and educator, Bortz feels that parents should nurture their children's curiosity. "Parents should encourage any positive natural leaning - investing their time (and money if possible) to reinforce that interest. Get your children involved early in enrichment programs at science museums and colleges. Support their schools. The reason I'm able to do school presentations is because parent organizations set aside money for visiting authors. Most importantly, make it clear that you care about your children's interests. Give them your time, and plenty of it."
In anticipation of National Science and Technology Week, Bortz will be signing "To The Young Scientist: Reflections On Doing And Living Science" (ages 12 and up), "Catastrophe! Great Engineering Failure and Success" (ages 9-14), and "Mind Tools: The Science of Artificial Intelligence" (ages 12 and up) at Borders Books and Music, 200 Monroeville Blvd., Monroeville, 11 a.m. Saturday
"To The Young Scientist: Reflections On Doing And Living Science" (128 pages, $22 hardcover, ages 12 and up) may be ordered through any retail bookseller.
Sandra Downs is a Level Green free-lance writer.
THE SCIENTISTS OF "TO THE YOUNG SCIENTIST"
In the book's introduction, Fred Bortz talks about his own background and what moved him to pursue a science career. Each subsequent interview fills a chapter of the book.
CAROLYN AND EUGENE SHOEMAKER
Comet Shoemaker-Levy 9 splashed across the news when it crashed into Jupiter several years ago, making Carolyn Shoemaker an instant celebrity. She started in astronomy late in life, but in just 14 years, Shoemaker discovered more than 800 asteroids and 32 comets - the world record for living comet-hunters. Her husband, Eugene, founded the science of astrogeology. He speaks of his childhood love of rocks, minerals, and fossils, "not knowing that one could actually make a lifetime profession out of such an interest." Shoemaker worked with NASA to study the geology of the moon and other bodies in our solar system. Both scientists discuss the rewards, excitement and hard work involved in becoming a scientist. "The Shoemakers were thrilled when I first contacted them about the book," Bortz said. "They actually thanked me for including them in the project, when I was so glad that they agreed to be a part of it."
FRANK ASARO AND HELEN MICHEL
Working together in analytical chemistry, Asaro and Michel discovered a probable cause for dinosaur extinction. Chemicals found in ancient clays pointed to a measurable layer of dust across the earth's surface. Did an asteroid impact on earth cause the end of the dinosaurs? Samples taken near a crater at the tip of the Yucatan Peninsula in Mexico showed large concentrations of this dust. Asaro and Michel talk about the details of their discovery. They explain how important it is to set goals and pursue every opportunity to better yourself and your work. Bortz captured the mutual respect and teamwork between the two scientists in their transcribed conversations. "Helen would come out with these broad statements, then Frank would jump in and fill in the details." When Bortz visited Berkeley, Calif., to meet with the scientists, he found Asaro outside the mold of Berkeley's casual atmosphere. "When Frank showed up for the interview in a suit, I told him that wasn't necessary. He laughed and said it was his normal attire. He was intensely serious about his work, but there was a sense of humor lurking under the staid exterior."
RICHARD SMALLEY
Smalley found himself interested in nature's tiny building blocks at an early age. A career in chemistry followed, where he could tinker with building molecules out of atoms. His work with carbon atoms led to the discovery of a soccer-ball shaped molecule of carbon dubbed buckminsterfullerene. Continued work with "buckyballs," as he called them, led to a Nobel Prize in 1996. Smalley describes his "working with Tinker Toys" approach to molecular science and the influences that led him into his career. "It amazed me when Smalley said he never thought he'd amount to anything," said Bortz. "He's one of the most creative minds in science today, yet he started with so many self-doubts."
PAULA GREGORY, RICHARD MORGAN, MICHAEL BLAESE
The Human Genome Project is a vast effort to understand what human DNA means. Thousands of scientists contribute to the knowledge pool; occasionally a discovery is released, like the identification of a genetic link for alcoholism. Bortz concentrates on a few scientists to explain the project: Gregory, Morgan, and Blaese. They talk about the enormity of the endeavor and how their individual contributions make a difference.
PATRICIA WATTENMAKER
Science is as much at home in the desert as it is in the lab. In the field, anthropologist and archaeologist Patricia Wattenmaker, a Pittsburgh native, uncovers lost civilizations and attempts to decipher everyday life in ancient cultures. Wattenmaker developed many specialized skills to pursue a holistic approach to research - putting together the clues found through animal bones, pottery shards, stone tools and settlement layout to develop an overall picture of the civilization. As a result, she uncovered a major archaeological find at Kazane Hoyuk in southeastern Turkey - "you could actually see it from the roof of the hotel that we'd been staying in for 10 years." Wattenmaker explains the excitement of discovery, and urges readers to "be open to your own interests and dreams."
ROBERTA NICHOLS
While most of the book focuses on university and research scientists, the chapter on Roberta Nichols talks about the life of an applied scientist. Nichols is an alternative fuels consultant who worked for Ford Motor Co. to develop cars that could run on ethanol, methanol or gasoline. She helped found the National Drag Boat Association, and for many years held the world drag boat speed record. Nichols describes how, in the 1940s, she turned her interest in cars and motors into a career as an engineer. "Roberta struck a wonderful balance between work and family - as part of her lifetime accomplishments, she lists her children and grandchildren," Bortz said. "Although she's an obvious role model for young women, I think young men should look to her as a role model too. We don't expect men to have that work/family balance in their lives; once we do, we'll have better children, thanks to better fathers."
INDIRA NAIR
As associate head of Carnegie Mellon University's Department of Engineering and Public Policy, Indira Nair deals with ethical issues in science. Raising questions - and respecting questions - is what Nair teaches fellow scientists as they struggle with the implications of scientific and technological advances. Nair, a North Huntington Township resident, talks about her research into health problems caused by electrical transmission lines and other low-frequency electrical fields. In her position, Nair is able to work with scientists on both sides of the issue - and she explains how she achieved that level of respect. She and Bortz worked together at CMU on a summer program for high school students, Careers in Applied Science and Technology. "Indira is a dear friend," Bortz said, "and I felt her story made the book complete. It's important for young people to understand the implications of their actions."